60 Degrees Pharmaceuticals to Participate in H.C. Wainwright 25th Annual Global Investment Conference
September 6, 2023 at 7:31 AM EDT
Management investor presentation webcast available Monday 9/11, 7:00 AM ET
Attendees may request 1 x 1 meetings with management at meetings@hcwco.com
WASHINGTON, Sept. 06, 2023 (GLOBE NEWSWIRE) -- 60 Degrees Pharmaceuticals Inc. ("60P" or the "Company") (Nasdaq: SXTP), a pharmaceutical company focused on developing new medicines for infectious diseases, announced today that CEO Dr. Geoff Dow and CFO Ty Miller will participate in the H.C. Wainwright 25th Annual Global Investment Conference  September 11-13, to be held in New York City.
A 20-minute, pre-recorded management investor presentation will be available on demand here starting Monday September 11, 2023, 7:00 AM eastern time. Participants will be able to submit questions for management at that time through the webcast link.
Attendees interested in 1 x 1 meetings with Dr. Dow and Mr. Miller are invited to request them through the conference's meeting scheduler at meetings@hcwco.com or by calling or emailing the investor contact below.
A replay of the investor presentation will be available on 60P's investor relations site for 30 days following the event.
About 60 Degrees Pharmaceuticals, Inc.
60 Degrees Pharmaceuticals, Inc., founded in 2010, specializes in developing and marketing new medicines for the treatment and prevention of infectious diseases that affect the lives of millions of people. 60P achieved FDA approval of its lead product, ARAKODA® (tafenoquine), for malaria prevention, in 2018. 60P also collaborates with prominent research organizations in the U.S., Australia and Singapore. 60P's mission has been supported through in-kind funding from the United States Department of Defense and private institutional investors including Knight Therapeutics Inc., a Canadian-based pan-American specialty pharmaceutical company. 60P is headquartered in Washington D.C., with a majority-owned subsidiary in Australia. Learn more at www.60degreespharma.com.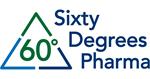 Source: Sixty Degrees Pharmaceuticals